The new era breeds new opportunities in Shandong, and new ideas inspire new driving forces in Shandong.

At a special press conference on Shandong held by the State Information Office on July 16, "New drivers for a new era, a new Shandong" was refreshing, and "surging new drivers of growth" became a hot phrase. So, what are the new driving forces in Shandong? What new drivers are surging in the cities? A look at the July 17 and 18 editions of Shandong's provincial party newspapers may give a clue.
7.43 billion yuan medicine project "hand in hand" spring city. Jinan Daily reported that on July 16, a grand meeting to shake the medical industry was held in Jinan. The shaking point came from a group of dazzling data -- 2019 China Medical Innovation and Development Conference. Four academician cooperation projects were signed in Jinan, and 7.43 billion yuan of pharmaceutical industry capital cooperation projects favored Jinan.
"If the urban strategic decision of building an 'international health care city' is to open up a smooth road, then the China Medical Innovation and Development Conference is an important 'service area' on this road. Through communication collision and resource aggregation, it will bring more opportunities for the development of medical and health care, and inject strong impetus into the building of 'International Medical and Health City'."
It is reported that Shandong takes medical care and health care as one of the "top ten" industries, and strives to build a trillion-dollar industry to continuously meet people's demand for health services. In the next step, Shandong will make unremitting efforts to optimize the industrial structure, encourage product innovation, promote industrial agglomeration and optimize the business environment. With the greatest sincerity, the best service and the most solid actions, Shandong will help people start businesses and enjoy their career and achieve career development.
17.3%! Qingdao's foreign trade growth rate in the first half of the year in the cities listed separately in the plan. Qingdao Daily reported that Qingdao Customs released the latest statistics: in the first half of the year, the total value of foreign trade of Qingdao reached 280.49 billion yuan, accounting for 28.9% of the province's total; It grew by 17.3% year on year, ranking the first among the five cities with separate plans, and 13.4 percentage points higher than the overall growth of import and export of the country.
It is reported that in order to actively deal with the Sino-US trade frictions and minimize the resulting impact, enterprises in Qingdao on the one hand are working hard to enhance their "core competitiveness" in the international market and hedge against the impact of the US tax increase. On the other hand, we should accelerate the development of emerging markets, increase market development in the 24 countries (regions) that have signed the FTA and countries along the "One Belt And One Road" routes, and reduce our dependence on major traditional markets such as the United States. What is particularly striking is that the import and export of "One Belt And One Road" countries reached 71.75 billion yuan, which further increased to 25.6% of Qingdao, with a growth rate of 36.1%, 18.8 percentage points higher than that of Qingdao.
We should learn from each other and strive to catch up and surpass each other in carrying out major projects. Zibo Daily reported, On the morning of July 15 to 17, zibo city organized the first half of 2019, economic and social development of the scene view will review, in districts and counties since this year, high-tech zone, zibo provincial economic development zone, wenchang lake tourist resort area of economic and social development and infrastructure, public service and social livelihood of the people, environmental governance project review, on-site view and showcase at all levels to promote the new We will make new achievements in the transformation of old growth drivers and the development of major projects, create a strong atmosphere of mutual learning and catching up with each other, make greater efforts to promote the development of quality projects, and strive for transformation and development, all-round revitalization, and take new steps in the forefront.
Assemble the "power group" of "lane change and overtaking". Zaozhuang Daily reported that in the midsummer, good news came from the "small and micro enterprise incubator park" in Taozhuang Town, Xuecheng District. Shandong Zhenwo Food Technology Co., Ltd. only had a trial operation for one month in early June, and its gross product exceeded 10 million yuan. A few years ago, it was abandoned after the mine was closed. Such good results are attributed to the small and micro enterprises incubation park under construction, which covers an area of 150 mu and is expected to invest 600 million yuan, based on industrial agglomeration, intensification, efficiency, energy conservation and environmental protection, taking the transformation of old and new drivers as the starting point.
Be a "leader" in your industry. Dongying Daily reported that Dongying Heyi Chemical Co., Ltd. is a high-tech enterprise founded in 2009, specializing in the development and sales of boron trifluoride series products. It has the most advanced and highly automated boron trifluoride series complex, high purity and ultra-high purity boron trifluoride gas production line in China.
To build the highest domestic ethylene industry chain. Yantai Daily reported that the Information Office of the Yantai Municipal Government held the second series of press conferences on the promotion of "top priority projects", focusing on the release of the progress and next steps of the three key projects, namely Happy New City, Wanhua Phase II and Weiyan High-speed Railway. Among them, the second phase of Yantai Industrial Park, including more than 20 projects such as ethylene, polyurethane industry chain and new chemical materials, has been steadily promoted and is planned to be completed successively in the second half of 2020. After completion, the market competitiveness of Wanhua will be further enhanced.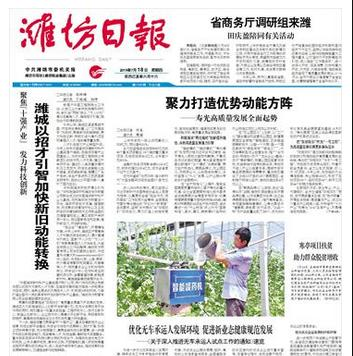 Pool forces to create a phalanx of dominant kinetic energy. Weifang Daily reported that Shouguang took the "double recruitment and double introduction" as the "No.1 project", and went all out to catch investment, talent and projects. Since the beginning of this year, we have organized 182 times of outbound and professional investment promotion, forming a cascade pattern of 191 projects under negotiation, 54 signed projects and 44 newly started projects. In the first half of the year, the general public budget revenue reached 5.28 billion yuan, up 5.1% year on year. We have worked together to promote the construction of 60 key projects with a total investment of 80.89 billion yuan, including 19 major key projects in Weifang. The investment of 6.55 billion yuan has been completed, accounting for 65.1% of the annual plan.